Bodrum - S.Dodecanese - Bodrum 7-8 Days Gulet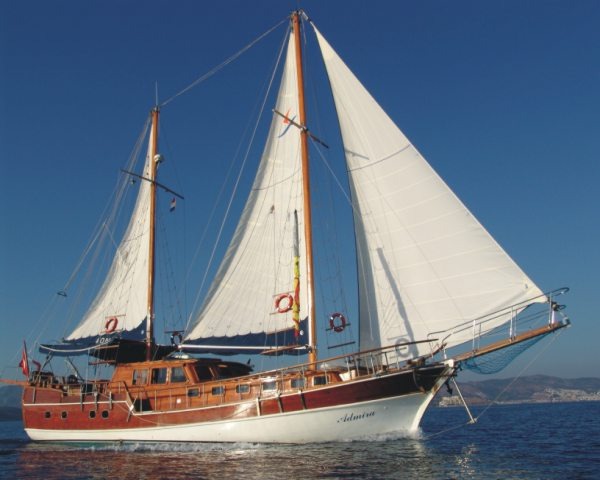 BODRUM-SOUTH DODECANESE-BODRUM
Type of Boat: Traditional Wooden Gulet (M/S) - Air Conditioned
Duration: 7 Nights – 8 Days
Departure Day: Sunday
Embarkation: Bodrum Harbour
Embarkation Time: By 15:30 p.m.
Disembarkation: Bodrum Harbour
Disembarkation Time: Before 10:30 a.m. after breakfast
Optional Excursions: Rhodes Old City, Rhodes Lindos Tour, Nisyros Volcano Tour, Turkish Hamam.
Departure dates: Every Sunday between May 15th and October 09th inclusive.
Day 1: BODRUM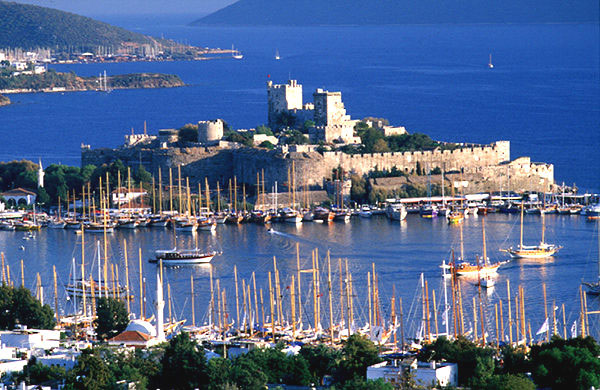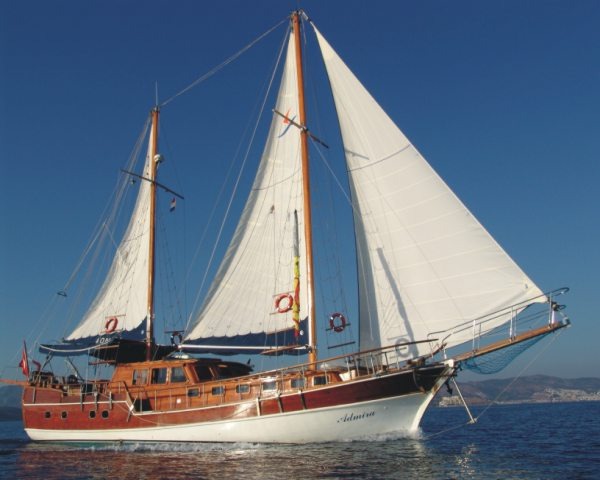 Boarding starts at 15:30 from Bodrum Harbour. On the first day, our boat will remain anchored in Bodrum Port for dinner and an overnight stay. Bodrum has a history that goes back to the 12th century B.C. The city was called 'Halicarnassus' and it was the birthplace of Herodotus; the 'Father of History' who lived in the 5th century B.C. The 'Mausoleum' of King Mausolus (350 B.C.), one of the Seven Wonders of the World is in this city. The only structure that survived from the Classical Era is the Amphitheatre. It is one of the oldest theatres in Anatolia with a capacity of 13.000 guests and it is still hosting many shows and concerts for the art-lovers of Bodrum. Another place that you should visit when you arrive in Bodrum is the landmark of the city, the 'Castle of Saint Peter'. It is one of the best preserved pieces of architecture with a history dating back to the Middle Ages. 'Myndos Gate' through which Alexander the Great entered Halicarnassus is another place that you should not miss.
Day 2: COS (KOS)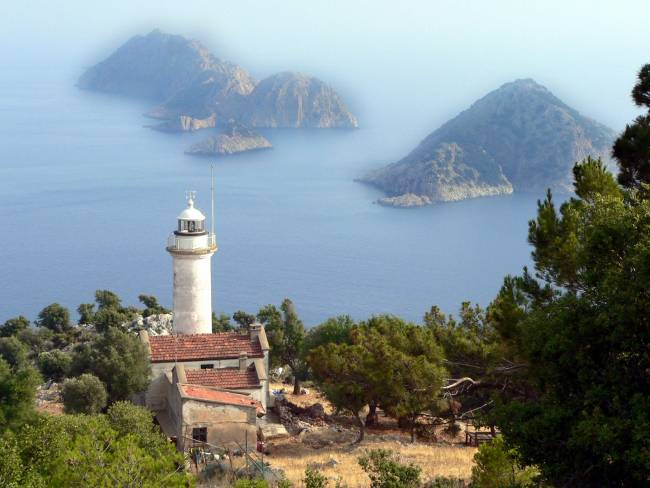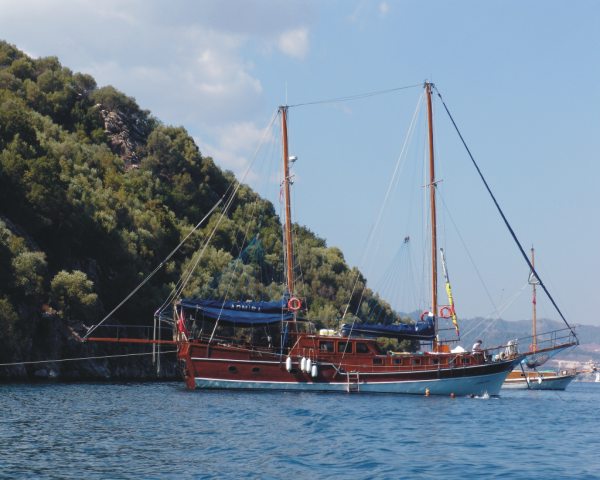 After breakfast, you will be informed about the cruise itinerary and the boat. After the customs formalities are completed, we will cruise to Kos Island. Asclepion, known to be the birth place of Hippocrates, who is 'the Father of Medical Sciences', is located here. All the people from the eastern Mediterranean with health problems were treated in Kos. Kos is the second largest island of the 12 islands (Dodecanese islands) and has a very mild climate and very fertile lands. The island houses a 560-year-old tree, a 211-year-old fountain and a 290 km long beach. You may take a quick swim in Lambi Beach which is very close to Kos Harbor. Kos is one of the islands with the best night life. Nafklirou, a street full of bars, is always crowded, colorful, and full of life.
Day 3: NISYROS - SYMI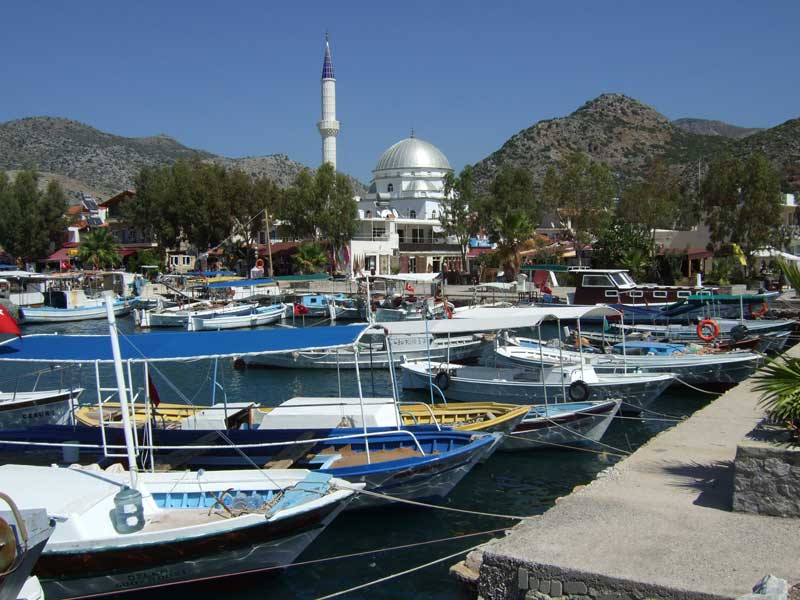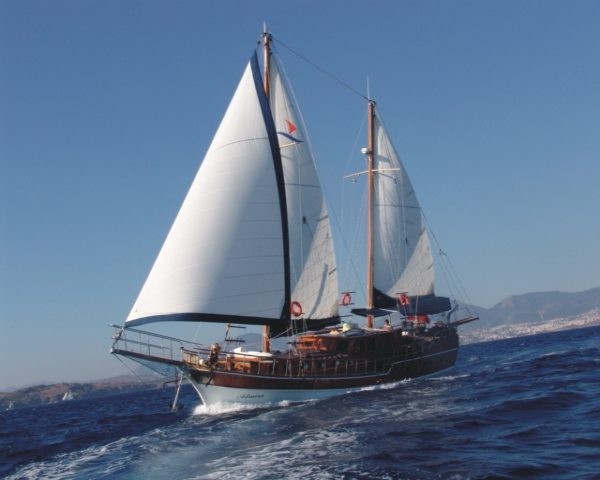 Early in the morning we will cruise to Nisyros Island and will have a swimming break. The volcano on Nisyros Island erupted in 1422 and is still active. Nikea village is located on the side of the crater is constituted with white streets and a mosaic-style square. You can take an optional bus tour to the crater (volcano) which is still active and you will see the gases coming from underground. We will anchor at Symi Port late in the afternoon. You can see the shoreline with its neo-classical houses and the peripheral districts. You are going to adore Symi Island for its pine and oak forests and unique bays.
Day 4: RHODES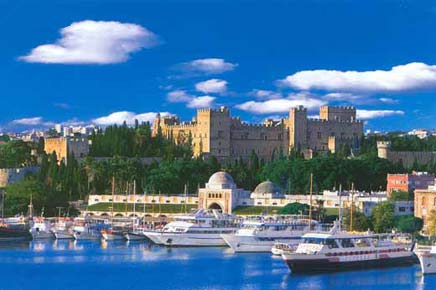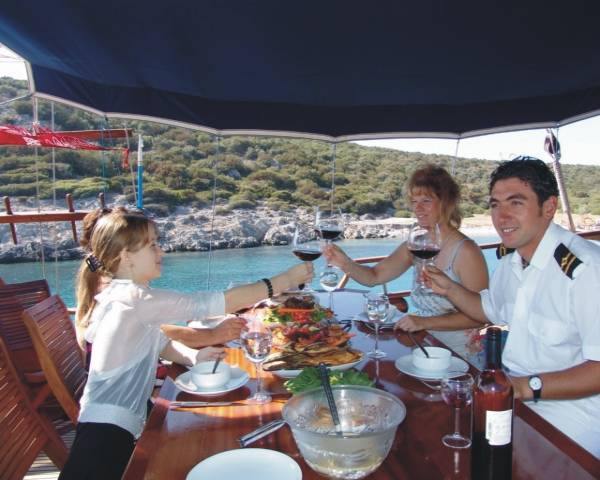 We will cruise to Rhodes early in the morning. Rhodes is the largest of the Dodecanese Islands. The island is quite a popular holiday destination as it has one of the best-preserved and the largest European Medieval cities and has warm weather for 300 days of the year. Rhodes has been the cradle of many civilizations; starting with the knights of St. John in the Middle Ages, then Ottomans and Italians. Thus, the island has a unique historical harmony and beauty. Here you can join our optional old city tour. The main port of Rhodes is Rhodes City which bears the same name as the island. The other touristical areas of Rhodes island are; Lindos and Kamiros. Here there will be another optional excursion; Lindos Tour. This city, which is still surrounded by a 12 meter thick city-wall which gives you the feeling of travelling back to Medieval times especially when you walk around its narrow, stone-paved roads. After dinner, we highly recommend you to enjoy in Rhodes Town night out.
Day 5: DATCA - KARGI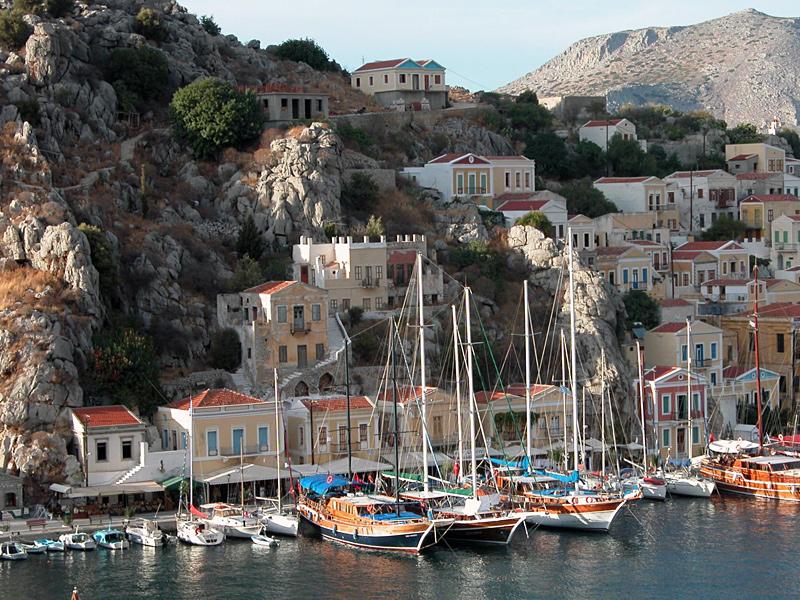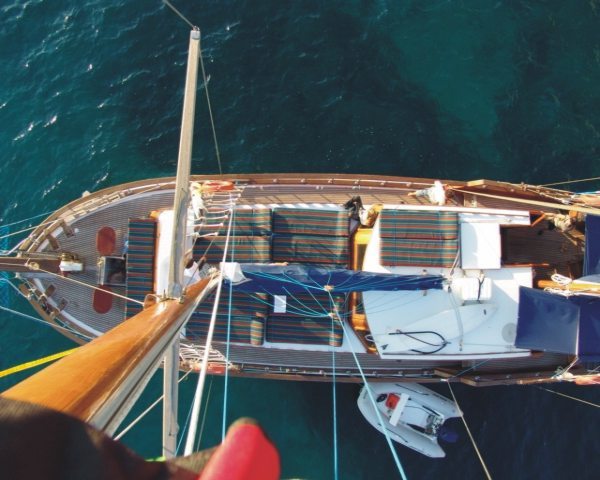 We return to Turkey via Datca. Datca was founded by the Dorians who came from Aegean Sea to the southern coast of Ionia in the 7th century B.C. The island has no humidity at all and has fresh air with plenty of oxygen. The historian Strabon was right when he remarked of Datca's weather: "God would send his beloved servants to Datca to live longer". According to a myth while the Spanish pirates were passing by the coast of Datca, they disembarked people with Hansen's disease in Sariliman Bay and these abandoned people recovered from their disease with the help of the clean weather of Datca. You may take a walk in DatcaHarbor. Our last stop will be Kargı Bay.
Day 6: INCEBURUN - PALAMUTBUKU - KNIDOS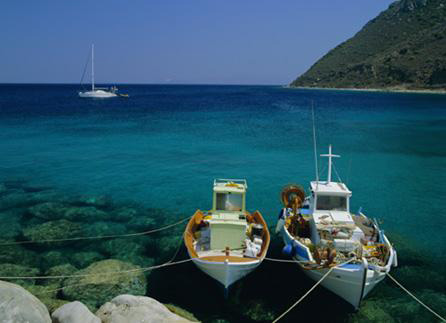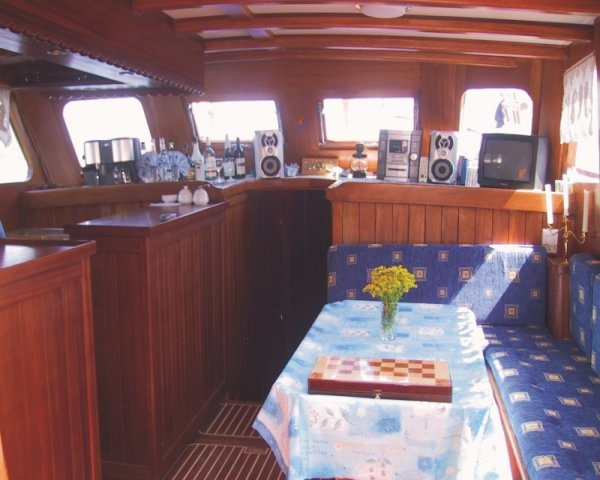 We will start to sail towards Inceburun. The breakfast and a swimming break will take place here. After that we will cruise to Palamutbükü for lunch and a swimming break. We will cruise to Cnidus for dinner and an overnight stay. Cnidus was a developed city in science, art and architecture. Eudoxos, a very popular astronomer and maths professor; Dr. Euryphon; Polygontos, a popular painter; Skopas and Bryaksis of Faros, the most famous sculptors of the era; Sostrates, the architect of Alexandrian light house -one of the seven wonders of the World- and Ktesias the doctor, who saved the life of a Presian king from a disaster, lived on this island. Dr. Euryphon and his students founded the second biggest medical science school in Cnidus. The island also hosts the largest sun clock of its time which was erected by Eudoksos. Knidos was the home for Aphrodite's monument and in those times the city was famous for brothels and became popular for sailors and Arabic tradesmen. You may take a walk on the shore to see the ruins.
Day 7: BLACK ISLAND - POYRAZ HARBOUR - BODRUM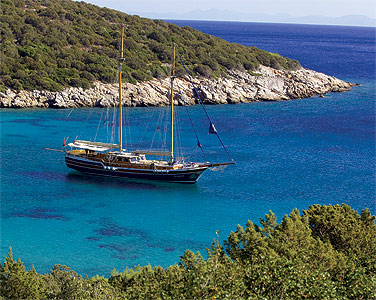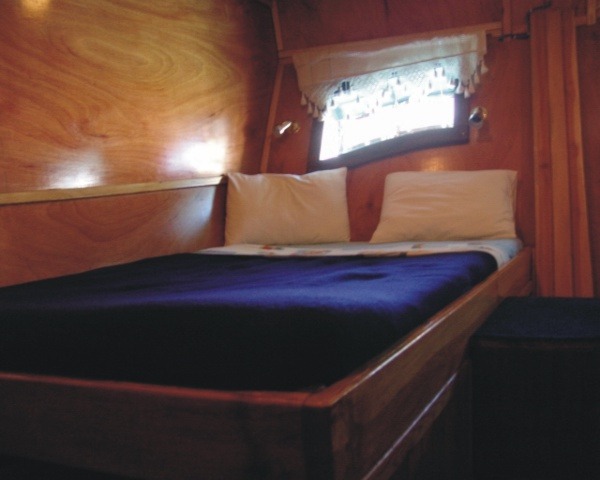 We will begin to cruise early in the morning to Karaada (Black Island). Breakfast and a swimming break will be at Poyraz Bay which is located on the northern side of the island. This is such a nice bay with its turquoise-blue waters. We will dock in Bodrum Harbor for dinner and an overnight stay.
Day 8: BODRUM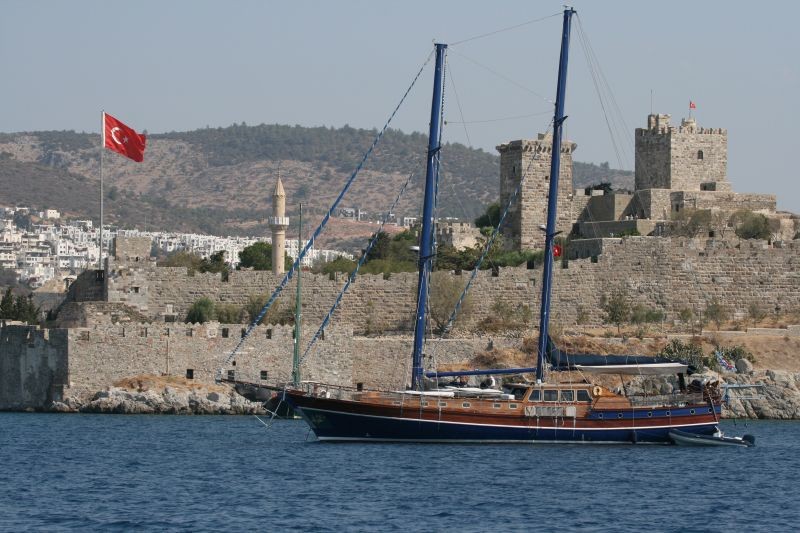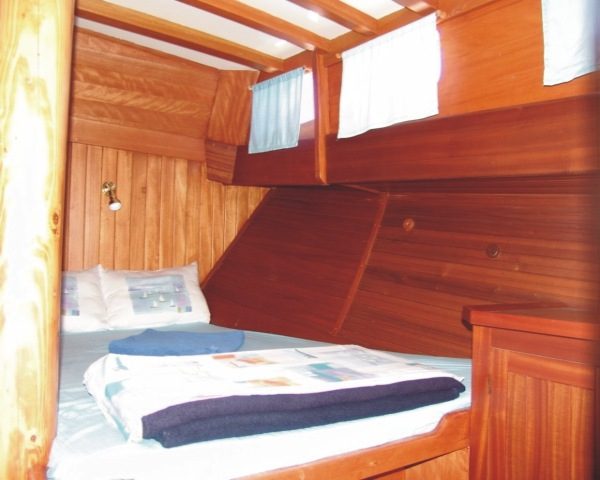 The guests will leave the boat with precious memories by 10:30 after breakfast.
(Prices are applied according to the date of departure) PERIODS

PRICES (IN GBP)

PERIOD 1

May 15th - 21st / October 02nd - 15th

£ 265 -per person weekly, Full Board.

PERIOD 2

May 22nd – June 11th / Sept.18th – Oct. 01st

£ 375 -per person weekly, Full Board.

PERIOD 3

June 12th – July 02nd

£ 450, -per person weekly, Full Board.

PERIOD 4

July 03rd – 30th / August 28th - September 17th

£ 550, -per person weekly, Full Board.

PERIOD 5

July 31st - August 27th

£ 650, -per person weekly, Full Board.
DETAILS OF THE PRICES FOR ALL ITINERARIES
▪ Weekly prices above are in GBP and are for one person in a double cabin on a Full Board basis.
▪ Single Supplement is 60%.
▪ No child discount available in any itinerary. No children under the age of 12 are allowed.
INCLUDED IN THE PRICES
Full Board accommodation: Breakfast, lunch - afternoon tea - coffee & cookies – dinner.
Water is included during meals only.
All charter & berth taxes, Harbour & Port procedures.
Transit log & related formalities for the shipping agents.
Mooring expenses.
Crew service.
Ship water.
Diesel & Gasoline expenses.
Clean bed linen and bath towels on arrival (Beach towels are not provided).
Use of equipment on board. (Flippers, snorkel and fishing tackle etc.)
Yacht insurance (We advise you to take out your own individual travel insurance).
V.A.T.
On Greek Islands Itineraries;

Harbour taxes and mooring fees in foreign waters for the yacht.
All port procedures & custom expenses in foreign waters for the yacht.
NOT INCLUDED IN THE PRICES:
Alcoholic & non-alcoholic beverages including bottled water. These can be purchased from the bar on board.
Optional land tours and entrance fees to historical places and museums.
Individual port taxes on arrival and departure in Turkey & also Greece.
Airport Transfers