Bodrum - Gulf of Gokova - Bodrum 7-8 Days Gulet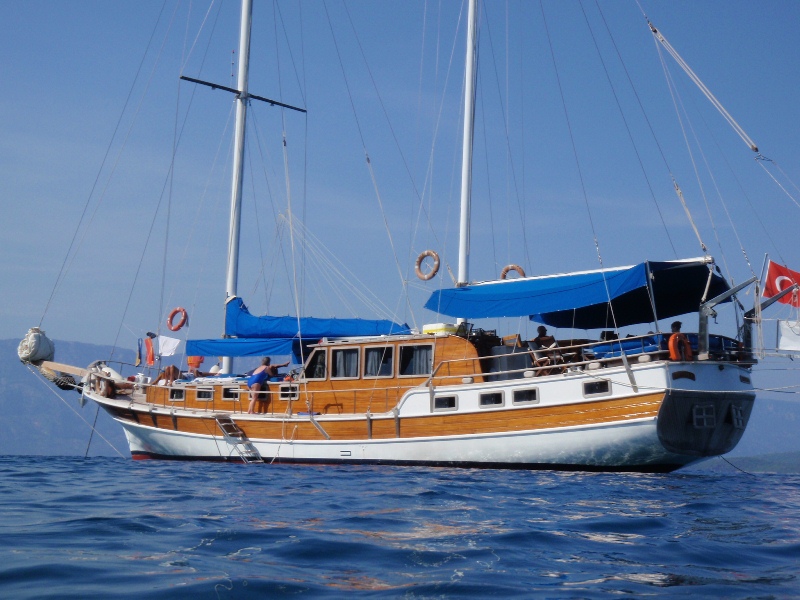 BODRUM – GULF of GOKOVA – BODRUM
Type of Boat: Traditional Wooden Gulet (M/S)
Duration: 7 Nights – 8 Days
Departure Days: Saturday, Sunday & Monday
Embarkation: Bodrum Harbour
Embarkation Time: By 15:30p.m.
Disembarkation: Bodrum Harbour
Disembarkation Time: Before 10:30a.m. after breakfast
Optional Excursions: Dalyan Caunos, Local Village Tour, Turkish Hamam
Departure dates:
Saturday departures :
Every Sat. between April 23rd and Oct 15th inclusive.
Sunday departures : Every Sunday between May 15th and Oct 09th inclusive.
Monday departures: Every Monday between May 16th and Oct 10th inclusive.
Day 1: BODRUM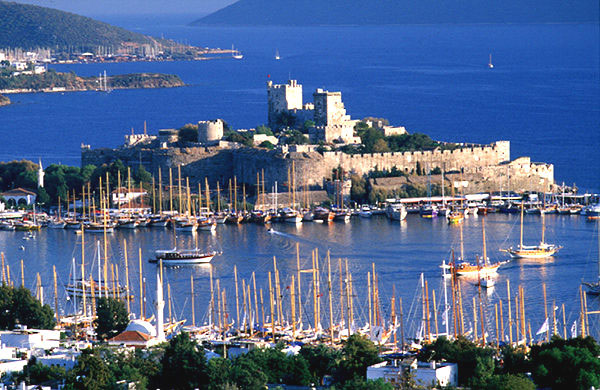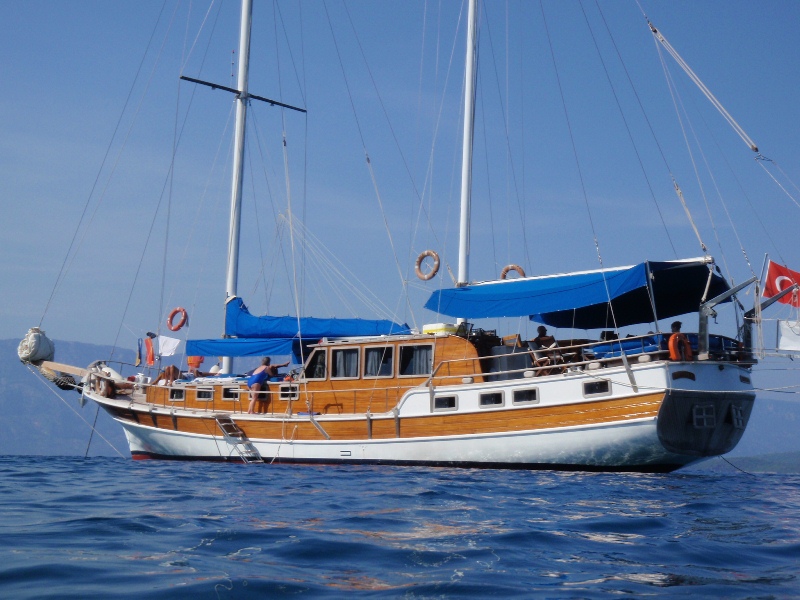 Boarding starts at 15:30 from Bodrum Harbour. On the first day, our boat will remain anchored in Bodrum Port for dinner and stay at the port overnight. Bodrum has a history that goes back to the 12th century B.C. The city was called 'Halicarnassus' and it was the birthplace of Herodotus; the 'Father of History' who lived in the 5th century B.C. The 'Mausoleum' of King Mausolus (350 B.C.) one of the Seven Wonders of the World is in this city. The only structure that survived from the Classical Era is the Amphitheatre. It is one of the oldest theatres in Anatolia with a capacity of 13.000 guests and it is still hosting many shows and concerts for the art-lovers of Bodrum. Another place that you should visit when you arrive in Bodrum is the landmark of the city, the 'Castle of Saint Peter'. It is one of the best preserved pieces of architecture with a history dating back to the Middle Ages. 'Myndos Gate' through which Alexander the Great entered Halicarnassus is another place that you should not miss to visit.
Day 2: ORAK ISLAND – COKERTME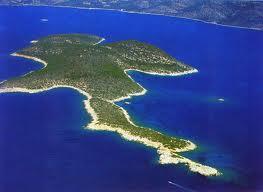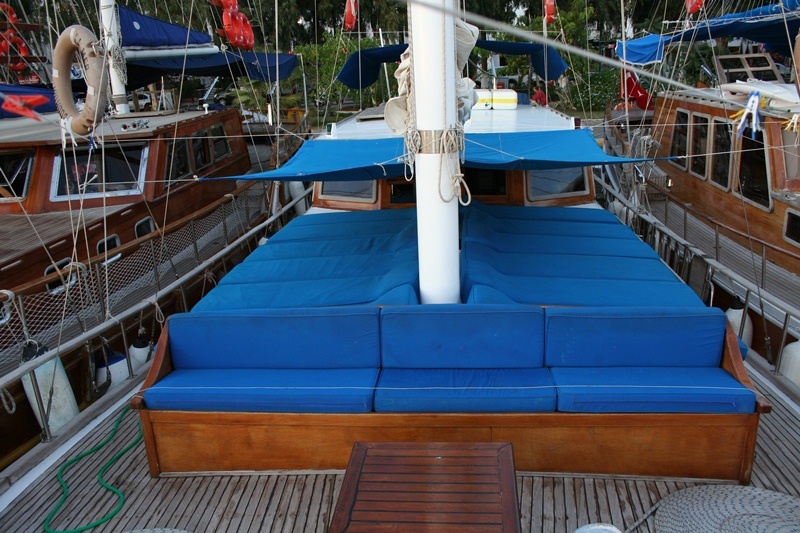 After your breakfast, you will be informed about the cruise itinerary and the boat. Then we will cruise to Orak Island. Here you will have the opportunity of swimming in the crystal-blue waters of Orak Island and enjoying lunch, we will then sail to Cokertme, a small and picturesque fishing town, for dinner and an overnight stay. If the weather conditions permit, it may be possible to use the sail on the way. Guests are welcome to take a short walk on the shore.
Day 3: SEVEN ISLANDS (KUFRE / UZUN LIMAN -LONG PORT-) - ENGLISH HARBOUR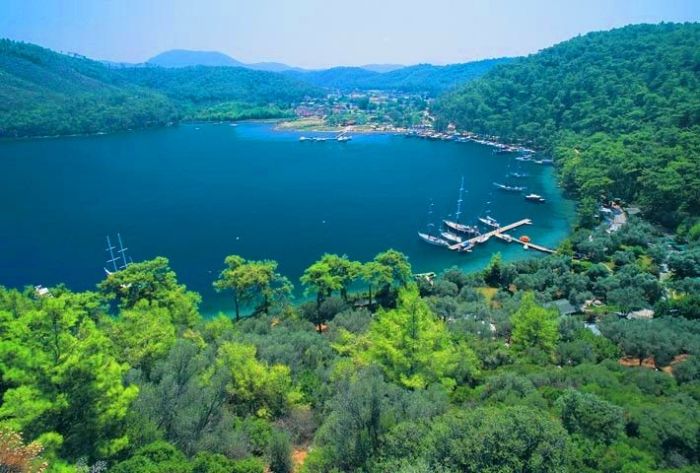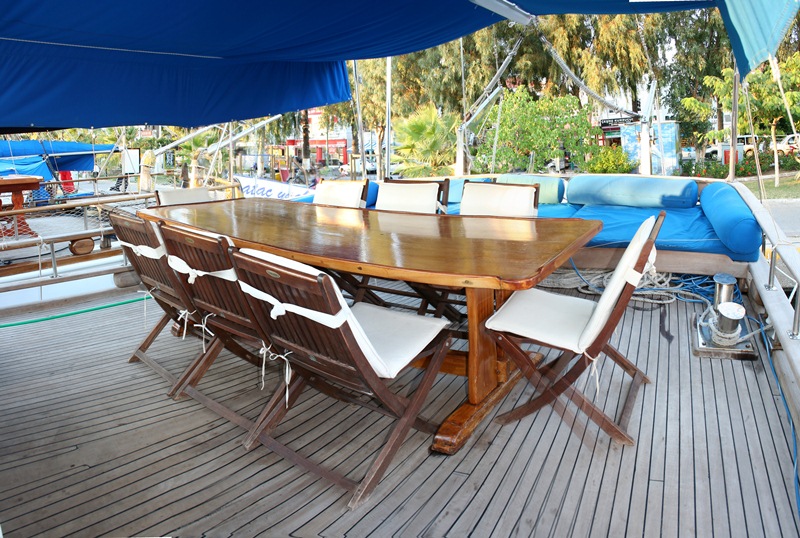 Before breakfast in the early morning, we will cruise to Seven Islands. You will experience another excellent day in the Seven Islands Region. In this region which is full of many small islands and coral reef; it is recommended that you should dive, swim, sleep and rest. Our guests can also enjoy a walk in the forests which are filled with pine trees. Our first stop in Seven Islands Region will be Kufre Bay. Then we will be anchoring at Uzun Liman (Long Port). Afterwards we will cruise to English Port for dinner and an overnight stay. The name English Port comes from the time of 2nd World War as the ships of British Navy forces used to dock here. In this area, there are so many small and large bays which are suitable and sheltered enough to anchor for the boats.
Day 4: CLEOPATRA ISLAND – KARACASOGUT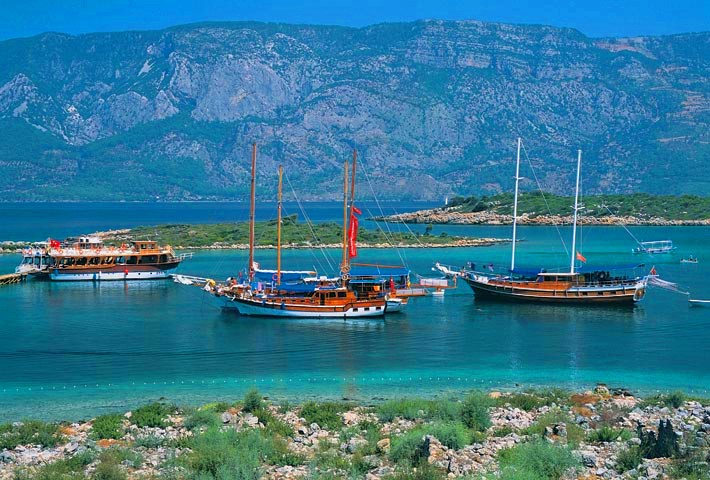 We will cruise to Sedir (Cedrae) Island. This unique island with its small beach and unbelievable clear water is like an open-air museum. You can see the city walls, the temple from the time of Dorians' reign (later restored as a church), the amphitheatre with 1,500 guest capacity and some vaulted historical buildings. You can walk around the wrecks of pillars with antique writings on them or the ancient stones decorated with reliefs. Cleopatra Beach, located on this island, has a very special kind of sand that can only be found in the deserts of Northern Africa. According to the myth, King Antonius brought the sand from Egypt via sea for Cleopatra. Then our boat will sail to Karacasogut village for dinner and spend the night there. This lovely village is located at 25 km away from Marmaris. Therefore, it is possible to visit Marmaris via 'dolmus'(mini buses) if you want. We also have an optional tour to Dalyan - Caunos .
Day 5: LONGOZ - TUZLA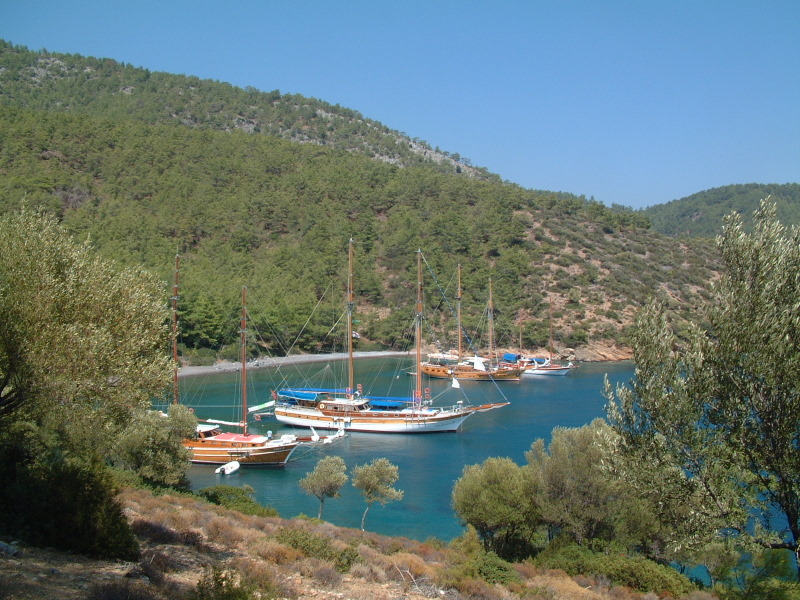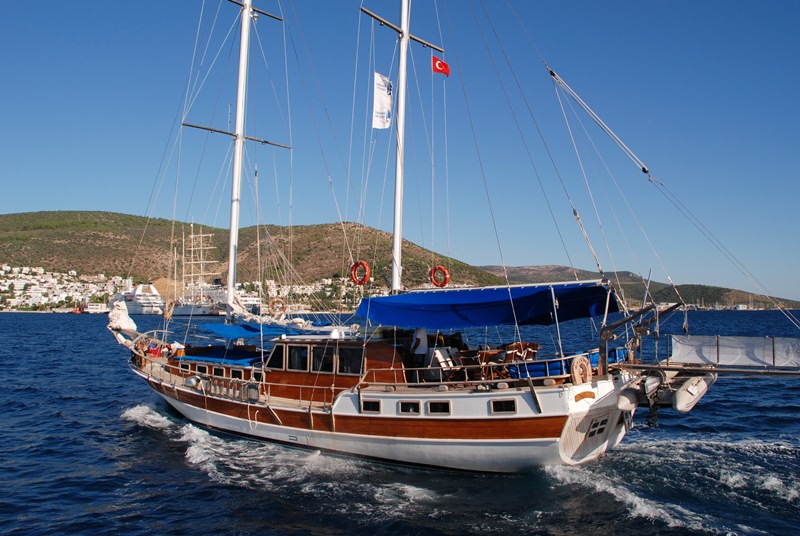 Morning swimming will soon become a part of your daily activities. For lunch, our captain will cruise to Longoz Bay; another place which is like paradise, sheltered with huge pine forests. After lunch, you can enjoy a short walk in the forest and take a rest in Ali Baba's local shed-like cafe.
Afterwards the gulet will be anchoring at Tuzla Bay to enjoy a swimming break in the turquoise-blue waters. Dinner and overnight stay at Tuzla.
Day 6: KARGILI - KISEBUKU (ALAKISLA BUKU)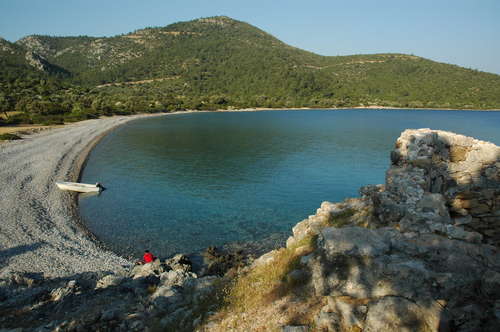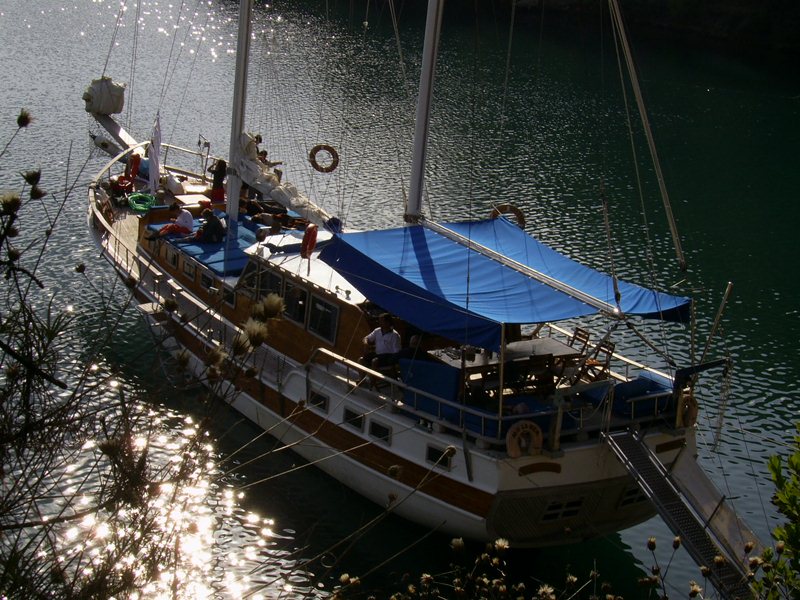 We will be in Kargili Bay (Molla Ibrahim Bay) early in the morning. After lunch, we will be anchoring at Kisebuku (Alakisla Buku).Here you can see the ruins of Byzantines. We will spend the night in this lovely bay.
Day 7: PABUCBURNU - YALICIFTLIK – BODRUM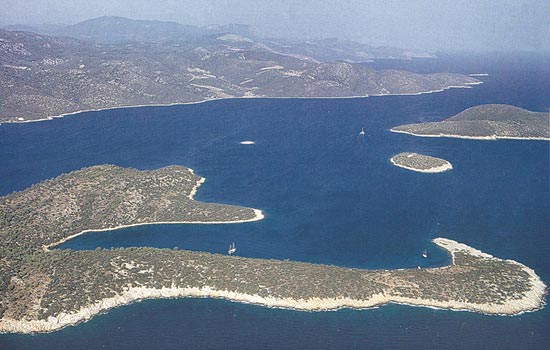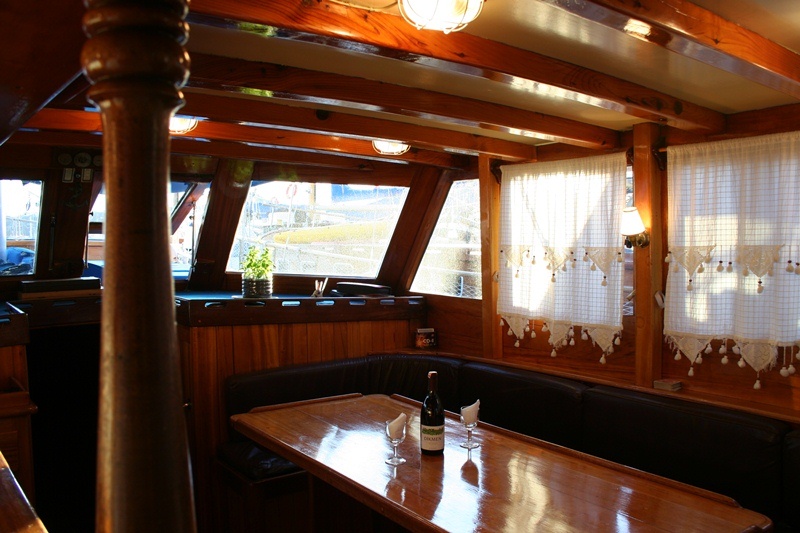 We will sail to Pabucburnu after breakfast and enjoy lunch here. Tea will be served in Yaliciftlik Bay. An optional village tour can be arranged from this bay for those who are wishing to experience the local life. Then our boat will cruise back to Bodrum Port for the last day's dinner and an overnight stay.
Day 8: BODRUM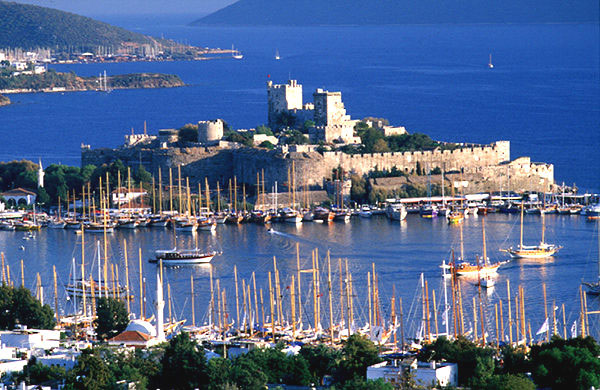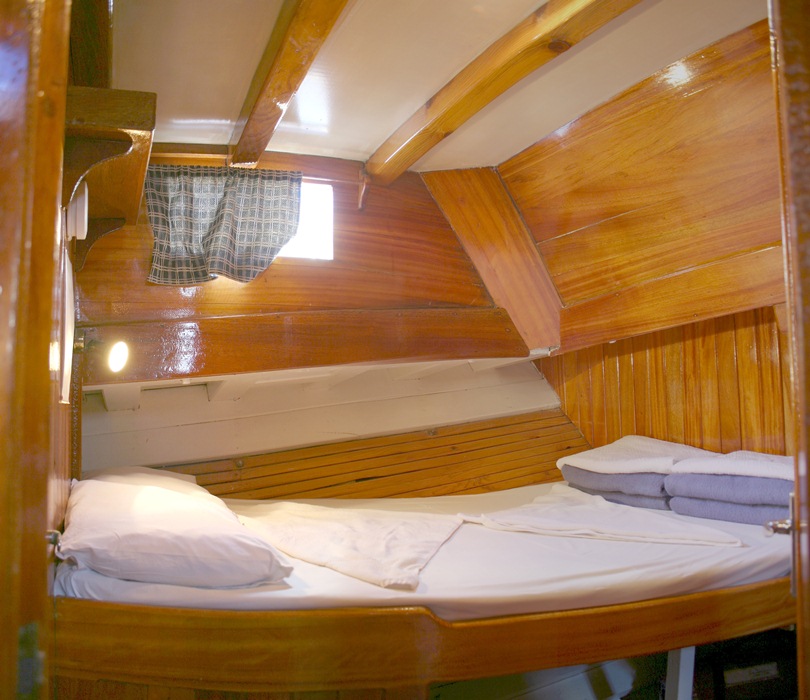 The guests will leave the boat with precious memories by 10:30 after breakfast.
PRICES OF THE PROGRAMME 1 (Prices are applied according to the date of departure) PERIODS

PRICES (IN GBP)

PERIOD 1

April 23rd – May 20th / October 01st – 21st

£ 185, -per person weekly, Full Board.

PERIOD 2

May 21st – June 10th / September 17th – 30th

£ 230, -per person weekly, Full Board.

PERIOD 3

June 11th – July 01st

£ 265, -per person weekly, Full Board.

PERIOD 4

July 02nd – 29th / August 27th - September 16th

£ 330, -per person weekly, Full Board.

PERIOD 5

July 30th - August 26th

£ 400, -per person weekly, Full Board.
DETAILS OF THE PRICES FOR ALL ITINERARIES
▪ Weekly prices above are in GBP and are for one person in a double cabin on a Full Board basis.
▪ Single Supplement is 60%.
▪ No child discount available in any itinerary. No children under the age of 12 are allowed.
INCLUDED IN THE PRICES
Full Board accommodation: Breakfast, lunch - afternoon tea - coffee & cookies – dinner.
Water is included during meals only.
All charter & berth taxes, Harbour & Port procedures.
Transit log & related formalities for the shipping agents.
Mooring expenses.
Crew service.
Ship water.
Diesel & Gasoline expenses.
Clean bed linen and bath towels on arrival (Beach towels are not provided).
Use of equipment on board. (Flippers, snorkel and fishing tackle etc.)
Yacht insurance (We advise you to take out your own individual travel insurance).
V.A.T.
On Greek Islands Itineraries;

Harbour taxes and mooring fees in foreign waters for the yacht.
All port procedures & custom expenses in foreign waters for the yacht.
NOT INCLUDED IN THE PRICES:
Alcoholic & non alcoholic beverages including bottled water. These can be purchased from the bar on board.
Optional land tours and entrance fees to historical places and museums.
Individual port taxes on arrival and departure in Turkey & also Greece.
Airport Transfers.