Turkish Cuisine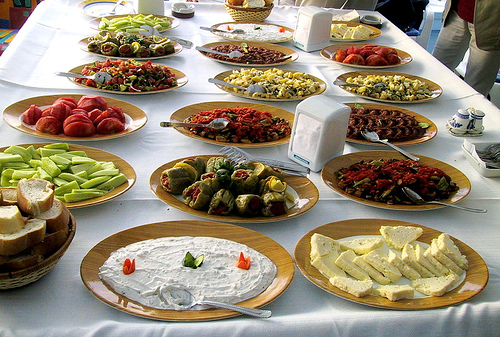 Turkish Cuisine
We know that it's often the thought of foreign and unusual foods that can put tourists off of visiting new countries, but we'd like to assure you that Turkish cuisine is among the tastiest in the world! Of course you could argue that we're biased when it comes to Turkish food, so here's a brief guide as to what you should expect…
A Blend of Cuisines
Turkish cuisine is influenced by several different world cuisines, creating a blend of Mediterranean, Balkan, Central Asian and Middle Eastern, and despite the Middle Eastern influences not all Turkish food is as spicy as some visitors expect. Herbs, peppers and chilli peppers are most commonly used to give certain types of kebabs a little kick, but if you're not a fan of 'hot' dishes you can easily avoid them when eating in Turkey.
Regional Cuisine
As with many countries there are regional specialities, but popular dishes are available most everywhere in Turkish holiday hotspots anyway. On the beautiful Aegean and Mediterranean Coasts the cuisine is very similar to what you would find on holiday in Greece. Fish and seafood are popular because fishing is still a big industry along these coasts and excellent quality seafood is readily available though can cost more than your standard kebab and chips.
As with Greek food, Turkish cuisine in the south western region of the country features a lot of salad and vegetable dishes, and much of the cooking is done using olive oil. Olives themselves are popular as an appetiser, and if you go for a full blown 'meze' you're in for a real treat! Different restaurants will serve different dishes in their mezes and if there's something you've grown particularly fond of you can request it and the waiters are usually very happy to oblige.
British and International Cuisine
Despite there being some lovely Turkish cuisine available in all of Turkey's popular Aegean resorts there are times when many British visitors prefer a taste of home. In the major resorts finding British food is not a problem at all as there are many restaurants and pubs aimed at British tourists. It's not uncommon to see Sunday roasts being offered, so you can be sure that if the Turkish food just isn't appealing to you, you will always find something available that you do like, as well as Chinese, Indian, and Italian restaurants in many holiday resorts.
Before you head off on your Turkish holiday here are descriptions of some of the most popular Turkish dishes that you are bound to come across.
Patlıcan – aubergine (also known as eggplant) is a popular vegetable and can come in many different forms, fried, pureed or as a salad (salatası). Pronounced Patlajan.
Barbunya – not to be confused with barbunya fish (which is red mullet), this dish is Romano beans cooked in olive oil with sugar, tomatoes, onion, potatoes and carrots.
Börek – very fine layers of dough (like filo pastry) that's cooked layered with cheese, meat or vegetables. Pronounced 'burr-ek'.
Cacık – you may know this as the Greek dip Tzatziki as it's essentially the same thing; yoghurt containing cucumber, mint and olive oil. Pronounced 'jajuck'.
Çerkez – this is a chicken dish where the chicken is mixed with walnuts, mayonnaise and a little bread. Pronounced 'charkez'.
Dolma – dolma is very popular. It's usually vine leaves (or other vegetables) stuffed with rice and/or meat.
Humus – like the Greek's homous this is pureed chickpeas mixed with sesame, garlic, lemon juice and olive oil.
Kalamar – or Calamari is fried or grilled squid and is usually excellent in South Western Turkey.
Güveç – guveç is like a casserole and it's cooked within a clay pot usually with lamb (kuzu), shrimp (karades), or chicken (tavuk). Pronounced 'goovetch';
Köfte – generally speaking köfte is a meatball made of minced meat and lightly spiced. It can come in balls or is cooked on a skewer. Pronounced 'koftay'.
Döner Kebab – the döner kebab that we know and love today was actually invented by a Turkish immigrant in Berlin, Germany. Döner's can be either lamb or chicken and can be interlaced with vegetables.
İskender Kebab – the İskender kebab originated in Bursa but is popular in many parts of Turkey. It uses doner meat which is served on top of yoghurt, tomato and often bread.
Şiş or Shish kebab – refers to the method of cooking on skewers and grilled. Sis could be tavuk (chicken), lamb (kuzu) or fish, or Çöp Şiş which is small bits of meat with tomatoes, garlic, black pepper and thyme.
All Turkish fish are tasty, but it's nice to know exactly what you're eating!
Çupra or Çipura – Gilt-head bream. Pronounced 'chupra'.
Barbun(ya) – red mullet.
Levrek – sea bass.
Mezgit – whiting.
Kılıç – swordfish. Pronounced 'kahlutch'.
Kalkan – turbot.
The best known Turkish desert is baklava which is fine pastry layered with pistachio or walnut and a syrup or honey. It's incredibly sweet, but very yummy!
Other Turkish deserts include Lokum (Turkish delight), Sütlaç (rice pudding. Pronounced 'suitlutch'), Kadayıf (shredded pastry that's a bit like sweet shredded wheat! Pronounced Kadayuf) or you could just enjoy some beautiful fresh Turkish fruits!
When you holiday in Turkey you'll still be able to buy many of the drinks you're used to at home – Coke, Fanta, Sprite etc are usually readily available in shops, restaurants and bars. Turkey is big on fruit juices and one of the popular juices is sour cherry, called 'vişne suyu' in Turkish. You can also get more common juices such as orange (portakal), apricot (kayısı), and peach (şeftali). Bottled water (su), is often provided for a small fee or free with your meals in a restaurant.
In Turkey tea and coffee are very popular drinks with the locals. Regular tea (çay – pronounced chi), is served black and usually with lots of sugar, but you can ask for milk (süt) with your tea or have it with lemon (limon) if you prefer. If you want a Turkish coffee, which is renowned for being very strong, you should ask for 'kahve' (pronounced kahvé), but if you'd rather have a coffee more like what you'd get in the UK, ask for Nescafe. Another popular drink is Ayran. This is a watered down yoghurt drink that can be very refreshing.
Alcoholic drinks are readily available in most places within the tourist resorts, however if you're dining close to a mosque it's against the religion for alcohol to be served, so watch out for this.
Most of the drinks you're familiar with are served in bars and restaurants. Imported beers are available but you should try the local lager, called Efes, as this is very good. Turkey's famous spirit drink is Rakı (pronounced 'rakuh') which is great if you like the taste of aniseed! It can be served neat, but most people mix it with ice and water to produce a longer drink.