Shopping in Marmaris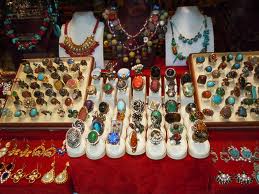 While on holiday in Marmaris you're going to have plenty of opportunities for shopping, whether you're buying gifts for friends and family back home, or treating yourself to a little something! As with the rest of Turkey and the Aegean Coast, you'll find some fine examples of carpets, leather goods, and of course tasty Turkish Delight when you wander around the town's shopping areas. Here are some hints and tips that should help you make the most of shopping while on holiday in Marmaris…
What Can You Buy in Marmaris?
It may sound like a cliché but the top items to shop for in Marmaris really are Turkish carpets and Turkish delight, though these aren't the only things!
Just about every shop in Marmaris that's aimed more at the tourists than the locals will be selling Turkish Delight, but the quality can vary greatly. Ones that are pre-boxed may be cheaper and easier, but if you can find a 'pastane' that sells Turkish Delight (called 'lokum' in Turkish) individually this will be the best. While there you could also consider buying some other sweet delicacies such as 'baklava'!
Genuine leather goods can be of a very high quality in Turkey. You can buy handbags, wallets, belts, jackets and other clothing. Depending on where you buy, you may be able to haggle the price down.
Marmaris is also a great place to buy designer name goods. At these prices the items are obviously fake, but the majority of t-shirts etc are made right here in Turkey and are of a surprisingly good quality.
Where to Shop in Marmaris
You wouldn't usually holiday in Marmaris if you're looking for high-end boutique shops, though there are a few in the town! However, Marmaris does have a good selection of shopping experiences, from the market to the bazaar, to large supermarkets.
Marmaris Bazaar
A holiday in Marmaris wouldn't be complete without visiting the town's historical bazaar. This look back at how Turks used to do all their shopping is interesting and often entertaining! You can buy a whole variety of items in the bazaar, and get yourself lost in the little warren of narrow streets.
Marmaris Market
The main market in Marmaris is in the west of the town in the Armutalan area and it's held every Thursday. You'll find a good selection of stalls here and being a market don't be afraid to haggle on the price, especially if buying more than one item from one seller.
Supermarkets in Marmaris
It's good to know that there are some large, and good quality supermarkets in the town, that are especially useful if you're staying in a self catering apartment in Marmaris. Tansas, Migros and Kipa are the largest ones which, between them, sell a very good range of foods and other items, including international brands.