Dining in Marmaris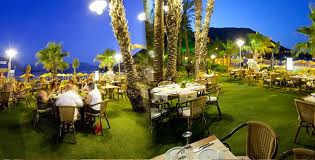 With the predominant tourist in Marmaris being British there's no shortage here of restaurants serving food that will appeal to a wide range of tastes. Whether you prefer to stick to what you know, or are happy to try Turkish or other international cuisine, Marmaris has a good selection of restaurants in each of these categories.
British Food in Marmaris
If you're really not keen on trying Turkish food, don't worry; when you holiday in Marmaris you'll find there's a very good selection of restaurants and pubs selling fairly traditional British food, including breakfast, lunch and dinner. But, with Turkish cuisine being so tasty, you really should try a couple of Turkish restaurants also!
Turkish Cuisine
Turkish cuisine really can be excellent, and it's quite varied. Eating out in Marmaris isn't all about doner kebabs; in fact you may be surprised at just how few places sell these! Meat does feature highly and there are all sorts of kebabs to try, often served with rice or chips and a little salad. Seafood is generally excellent all along the Aegean Coast, and far more traditional for this part of Turkey. You will have to pay more than you might expect for quality seafood, but it's usually well worth the price!
Where to Eat in Marmaris
There are many fabulous restaurants in the town, and the great thing is that when you're on holiday in Marmaris you can try out a different place every night!
Those by the marina will always tend to be more expensive, though the setting on the waterfront is lovely and worth spending a little more for. The beachfront promenade restaurants also benefit from a beautiful setting, while the atmosphere around the bazaar and the old part of town feels a bit more traditional.
With so many restaurants to choose from it's difficult to recommend one over another, but here are a few of the most popular restaurants in Marmaris…
The Drunken Crab, where seafood is a speciality. This restaurant is situated in a quiet part of Bar Street, not far from the waterfront.
Dede serves mainly Turkish cuisine and it's in an enviable position overlooking the marina. The food is always reviewed as being excellent, but costs a little more due to the location.