Icmeler Activities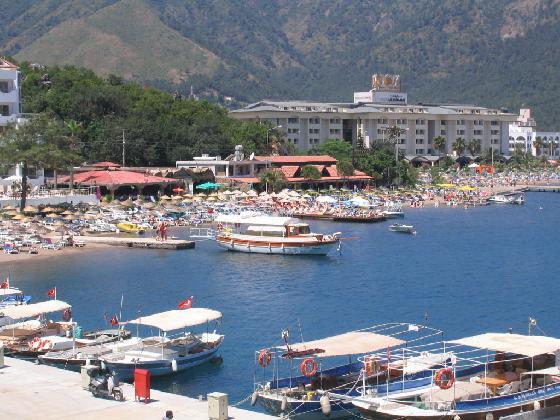 Activities and Things to do in Icmeler
When you're on holiday in Icmeler you'll find there's plenty here to keep you occupied. As with many of the resort towns along Turkey's Aegean Coast, Icmeler is not just somewhere you come for a beach holiday, though there is of course a lovely beach to enjoy! Turkey has so much culture and history to discover, and some of the most beautiful scenery to explore, that you should take advantage of Icmeler's location, close by to some fantastic tourist attractions.
Historical and Cultural Excursions from Icmeler
As tour operators we are able to offer some fabulous excursions, and our historical and cultural excursions are among the most popular. We take you to some of the most famous sites in Turkey including the impressive ruined city of Ephesus where you can marvel at the Roman architecture that includes a vast amphitheatre and the huge library. These are among the most impressive ruins in Turkey, if not the world.
Pamukkale is another of Turkey's most famous attractions. Our day trip allows you to visit the Pamukkale Cotton Castles, visit a roman bath, and see ancient ruins.
To experience some of the welcoming Turkish hospitality and the culture of today, we offer several excursions from Icmeler. The ICR Day Trip combines a look at village life with some beautiful scenery, while the Village Tour takes you right into the heart of Turkey's Aegean Coast villages where you can meet local people and buy handicrafts right from the hands that created them! These make great gifts for friends and family back home.
And if you want an enjoyable evening of Turkish culture our Turkish Night is just for you. Enjoy the authentic belly dancing and great music, and of course plenty of very tasty Turkish food to go with it!
Boat Trips from Icmeler
With the coastal location and miles upon miles of breathtaking coastal scenery to explore the best way to go is by boat! You can take advantage of several different boat cruises that we offer, such as a trip to Cleopatra Island. The BBQ Boat Trip is great value, providing a tasty barbecue lunch and sailing along the shoreline with plenty of swimming opportunities.
If you want to venture further afield, you could take the hydrofoil to Bodrum and spend a day in this popular Aegean coastal town, or visit another country and take the hydrofoil the Greece's popular island of Rhodes, only one hour from Marmaris by water.
Scenery and Adventure
With the pine clad hills surrounding Icmeler there are plenty of places to go and enjoy a hike, or better still, explore on horseback! Or if you prefer a faster pace we have some great adrenalin pumping excursions to offer too like the off road Quad Safari or white water Rafting excursion.
With so much to do there's no chance of you ever getting bored when you come on holiday in Icmeler!