Icmeler Accommodation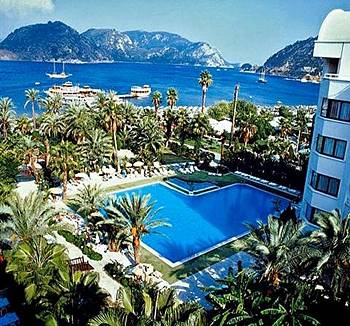 Accommodation in Icmeler
Not much more than 15 years ago Icmeler was still a sleepy little fishing village, but its prime location, set on a bay and surrounded by pine covered hills, make this the perfect place to come for an Aegean Coast holiday. Icmeler began to grow as visitors wanted to take advantage of this beautiful piece of coastline while enjoying a quieter alternative to popular Marmaris. Even though Icmeler isn't as large as Marmaris there are now plenty of places to stay.
Hotels in Icmeler
A holiday in Icmeler is suitable for all budgets as the town has a selection of hotels covering all star ratings. 2 star hotels in Icmeler are great for visitors who are on a tighter budget and want a comfortable place to stay without all the trimmings. Surprisingly, several of the 2 star hotels in Icmeler actually have private swimming pools, and some have a hotel bar offering basic pub style food, such as the recently renovated Villamar Hotel and Hotel 47.
Icmeler also has an excellent selection of 3 star hotels and these provide a few more comforts. You can usually expect to find a swimming pool as well as a restaurant and bar in Icmeler's 3 star hotels, while the great range of 4 star hotels offer even more. Right at the top end of the scale Icmeler also has a couple of 5 star hotels – Aqua Hotel's beachfront setting makes this one of the town's most popular, while the panoramic bay views from the 5 star Marti Resort Hotel are spectacular.
Apartments in Icmeler
While hotels in Icmeler are a great choice for some holidaymakers, there are those who prefer the facilities of an apartment. Apartments in Icmeler don't disappoint – the 3 and 4 star apartments available for a holiday in Icmeler offer a variety of facilities and services, usually with a small kitchen in which you can prepare your own meals whenever you want a break from the town's restaurants. The convenience of Icmeler's apartments makes these often a popular choice with families or with couples who prefer to do their own thing.
Where to Stay in Icmeler
Beachside hotels are great as you get views over the bay and easy access to the beach itself, though there are advantages of staying in a hotel or apartment in Icmeler that's inland too. Hillside locations may give you wonderful views over Icmeler Bay, while town centre locations allow you to be closest to all the restaurants, bars and shops, so they offer convenience. But at the end the day wherever you choose to stay in Icmeler you're sure to enjoy it!