Dining in Icmeler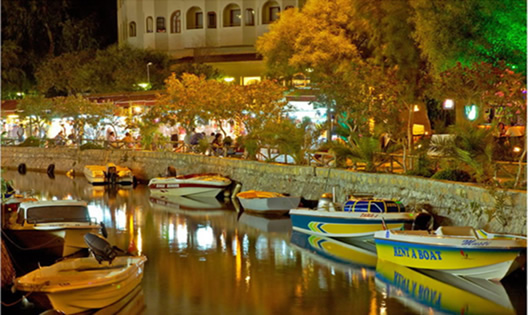 Eating out in Icmeler
Whether you holiday in Icmeler or anywhere else on the Aegean Coast you'll always find an excellent selection of restaurants serving some wonderful food at appetising prices! Turkish food is very tasty and here on the coast seafood always features highly, but if you're not up for trying some of the local dishes there are many restaurants in Icmeler serving all kinds of different food as well.
Restaurants in Icmeler
For a town of its size Icmeler is not short of restaurants. You'll find them down by the beach, in the old town, and in fact in every corner of this popular little coastal resort. Day or night you'll always find the owners and waiters are happy to serve you, and they always make sure you're 100% happy with the service! You can enjoy lunch or dinner while admiring some of the most beautiful views in the world, looking out across Icmeler Bay, surrounded by its pine clad mountains, or choose a restaurant that's set back in the streets of this atmospheric town.
Turkish Cuisine
Wherever you choose to dine in Icmeler you won't be disappointed! There are some fabulous restaurants that serve only Turkish cuisine, such as the highly rated 'Kerem'. The canal-side location and high class food makes this restaurant pricier than others, but it is a great choice for an authentic Turkish meal and has a fabulous, fairy-tale location.
Seafood is excellent here on the Aegean Coast, though you'll usually pay more for this than you would for meat. Accompany your seafood with one of Turkey's favourite drinks, Raki; an aniseed flavoured drink similar to the Greek's ouzo.
Kebabs of many different varieties are also often served, and dishes cooked in clay pot casseroles are something of a local special.
International Cuisine
If you prefer to stick to what you know while on holiday in Icmeler there are many restaurants that will cater to your tastes too. Holidaymakers will find a good selection of bars and restaurants serving British food, and there are also those that specialise in Indian or Chinese cuisine. There's also an Italian, and even a Mexican restaurant in Icmeler!