Dalaman Activities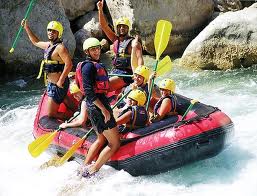 Dalaman – Popular Excursions
A holiday in Dalaman means you'll be in a great location from which to explore and enjoy this part of Southern Turkey. Full of ruined ancient cities and remnants from the many civilisations who have called this region home, Southern Turkey certainly has a lot to offer the history buff. Then there's the spectacular scenery too that most visitors find breathtaking.
Hire a Car in Dalaman
If you're spending your entire holiday in Dalaman you're going to find a hire car is very useful. With so many places to visit a hire car gives you the independence of going where you please, when you please. If you're here with family and plan to visit many of the attractions in the region a hire car will work out less expensive than paying for the price of an excursion all the time.
See our Dalaman Driving Tour page for a suggestion for a day's driving tour.
Outdoor Fun
With mountains, rivers and so much more in the Dalaman region there's plenty of opportunity to enjoy outdoor fun activities. Some of the most popular outdoor activities for holidaymakers in Dalaman include jeep safaris, horse riding, river rafting, and paragliding. Undoubtedly the best and most popular spot for paragliding is from the mountains overlooking Oludeniz (see below), a short drive away.
Boat Trips
Being situated near the southern coast of Turkey you can enjoy boat trips from nearby to Dalaman. No holiday in Dalaman would be complete without at least one boat trip, and if you travel to the nearby village of Gocek you'll find there are numerous boat tour companies offering trips out. Exact tours vary with each company but you'll usually find yourself being transported to secluded coves and bays where you can dive off the boat and enjoy a swim. Many of the boat tours are all day affairs and include lunch in the price.
Fethiye and Oludeniz
A holiday in Dalaman puts you within easy reach of the popular town of Fethiye and the village of Oludeniz. Fethiye is famous for its Lycian rock tombs that were carved into the hillside thousands of years ago. This town is popular with tourists but it's retained a very Turkish feel and hasn't been overdeveloped. You can visit the bazaar down by the waterfront or come on a Tuesday for the town's main market.
Oludeniz and its Blue Lagoon adorns many a Turkish tourist poster, and it really is as beautiful and spectacular as the photos make out! The peaceful waters of the lagoon make a great place for a day of swimming and sunbathing.